Blog
I have just spent two day racking my brain trying to come up with designs that are my own. As much as I absolutely LOVE my geniuses (the people from whom I buy some of the patterns I use), I want to be able to make my own critters and creations. It's simple enough to pick up a pattern, a crochet and some yarn and make something great but I always go back to the fact that I cannot call this creation my own… well I can since I've made it but I did not come up with the design. Now that I'm getting more confident in my ability I'm starting to have that creative itch. I've always had big ideas or projects but I have never really applied myself until now. I'm committed!
Anyway, I've come up with quite a few thing and I'm pretty proud of some of them but now comes the daunting task of putting thought and idea into an actual concrete shape. There lies the problem... The making of! It's always a bit frightening for me. I understand that I will spend so much of the little precious time I have to make something and undo and redo until content with the end result but I've always been afraid that, at the end of all this (time consuming) work, it will not get the reaction that I hope for. I guess that's a lesson in life and business that you must understand and learn at some point. You cannot please everyone and you certainly won't appeal to everyone, but it's okay and you should just move on and keep on doing what you do. To costumize and coin a famous phrase, in this case I would say, "Keep Calm and…" Crochet/Design on.
I am proud to add a creature to my amigurumi repertoire: A little "coy" fish. The idea was to design and create my mascot/logo. So I spent 2 days just brainstorming (not touching a crochet, which is weird seeing that I've been crocheting every day for months now) and drawing up some stuff. I came up with quite a few ideas for new creations and the little fishy was one of them. 
The brainstorming and the putting down the idea onto paper was a lot of fun (Designing is fun). Prototyping… not so much. Okay, I take that back, it was fun, just difficult. You have to come up with the basic shapes that will make up your soon to be creation. Easy enough… but for someone who has just followed a pattern so far (as far as amigurumi goes) it's a bit like learning to bicycle with no training wheels. I took those training wheels off and struggled to keep my balance. I had the vision in my head, but since you crochet in bits and pieces and then put the work together it just didn't look like much until it was all sewn and then I saw it. I have to admit, I had a sigh of relief (hooray it's finished and it looks like something) and I gave myself a big pat of the back (I'm pretty proud of it!)
My own design, my own amigurumi… my very own little creature! 
Now on to the next project!
Today I updated the site… okay that's all! Just joking of course, that's not all I have to say. That would be such a waste of space. Anyway, I update the site today with the "Disclaimer" page. It's almost pointless on this site seeing that I can't really sell from this particular site but sicne I can advertise my finished products I thought… "eh, what the heck!"
I'm not a huge fan of this part (the disclaimer and stuff along with it) because I don't like to tell costumers what they should or should not do or even tell them (or you reader(s)) what they HAVE to know and do… but it is necessary so here we go - update complete!

I, of course, think that people are aware of the dangers and know the consequences that could happen, but in any case I HAVE to state the "obvious" just in case. It's protection for me and of course any person who uses a disclaimer. 
Maybe one of the reasons I didn't like posting it on the website is because it's comfirmation that I'm actually doing this!!! AAaaaahhh scary! It's all good though, it's a good scary!
In other news: I spent most of my late night and very very early morning (last night and this morning) playing around the sandvox website builder app on the computer and this morning (still fairly early for me) a friend pointed out that the "contact form" portion of the site wasn't working. So I finally, think, I fixed it! So feel free to contact me with questions/comments/concerns or just to say hello!!! 
Funfunfun…. also… here is a little photo of my work station (well kinda… I mostly work on my couch):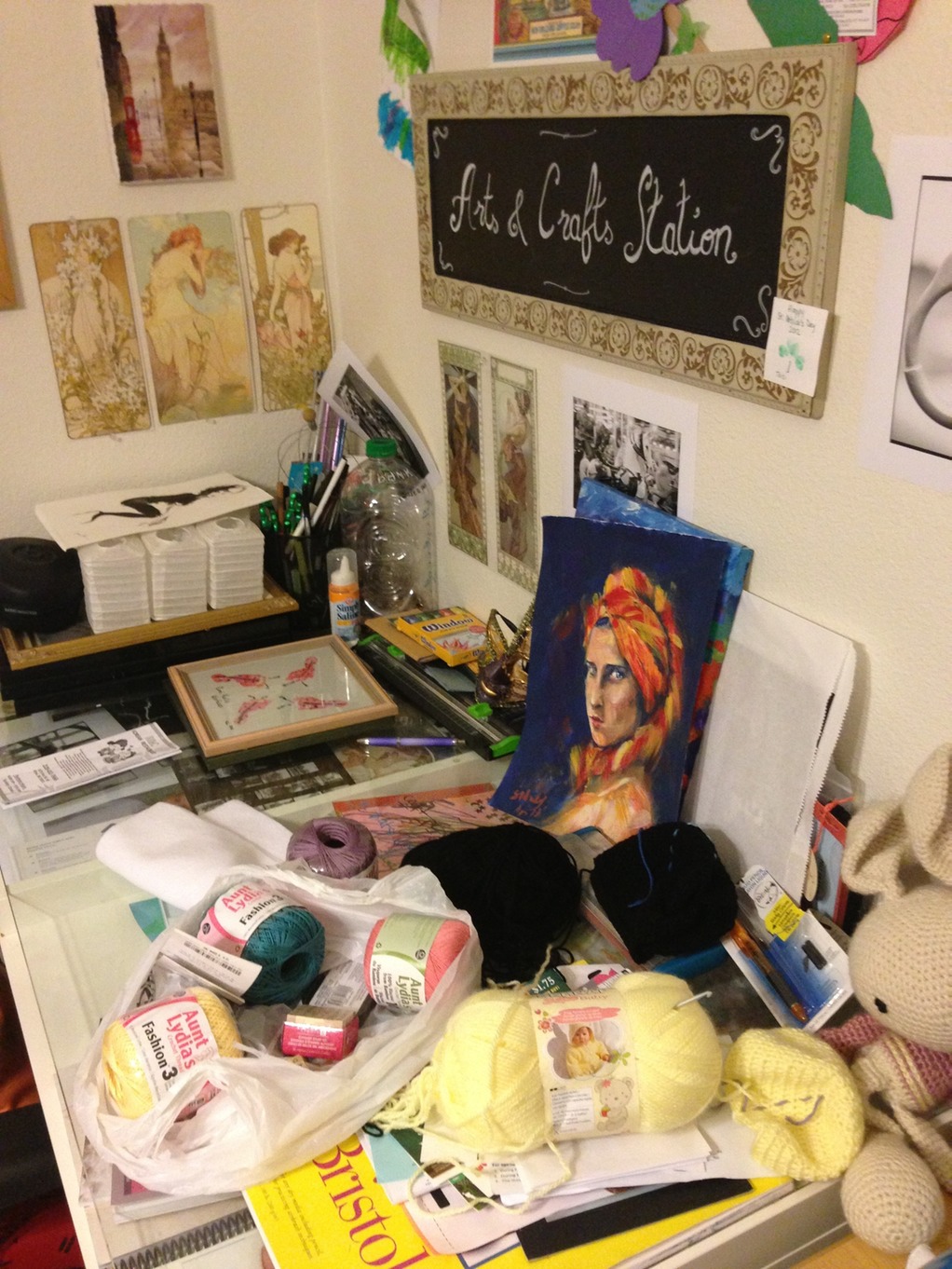 Messy messy messy. They say that artists are messy, right?!
Anyway… have a good day!
First ever entry...
There is a first time for everything and this would be it… well technically this isn't my first attempt at blogging but my "first time" I was young (not that much younger) and I just wanted to pass the time. This is something more along the lines of feeling like I can relate to people and people can relate to me. The purpose of the blog part of this website is just for me… well me and readers off course. It's just to connect with people with maybe the same passions/ideas… just sharing from me to you. It is quite daunting but fun!
So far I have to say that working on this website is proving to be difficult. I'm not as web savvy as I would have hoped and it is making me a little worried that I will not keep up with this endeavor as much as I would like. Trying to figure this out while having my 4year old boy run around (terrorizing the dog most times) and having to tear away from these projects every 10-20 minutes to cater to my 17m/o daughter makes it challenging to keep on top of any kind of updates or even work on anything to be honest. I'm fairly sure that after a bit of practice, any time management discipline, and some actual time I will do better at organizing myself to make this work for me but only time will tell…
Speaking of time, I've been working at finally publishing my little piece of cyber space for about 4 hours now and I have just realized that 3am is not the time for me to keep doing this. SLEEP SLEEEEEEEP! I need much much sleep if I want to be able to function decently tomorrow - bright and early with the kiddos.
Anyway, for those of you who will follow/read me, I thank you… for simply being awesome!
I'll keep you posted!
V.